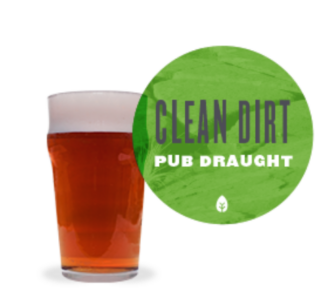 Clean Dirt
Pub Draught
For this smooth Pub Draught ale, we dug deep.  Real deep. Mama Earth is important to us, so for her we dug 12 feet down and replaced the remnants of the old Duluth Spring Company with good, clean, fresh dirt. Now that the digging is done, kick off your boots and settle in. Enjoy the soft hops and light caramel malts brewed to satisfy the people who work hard to do the right thing and make our hometown homier.
FOR PEOPLE WHO LIKE
Splittin' logs, getting dirty, flannel shirts
BEER GEEK STUFF
FERMENTABLES : Pale , Caramel 10, Caramel 60, along with Carapils, some flaked oats and a touch of sugar.
HOPS VARIETIES : Fuggle, Golding and Northern Brewer