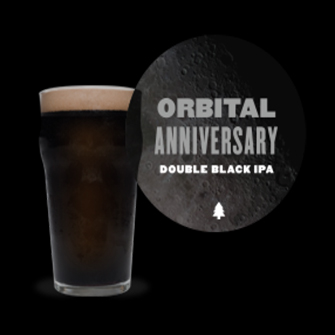 Orbital Anniversary
Double Black IPA
To commemorate our first trip around the sun, we brewed up something BIG, BOLD and as bitter as the darkness of night. This double black ale has spicy, floral and citrus notes and enough bite to last til the sun comes up. A million twinkling hops suspended in the earth's shadow. While 365 days is just a splash in the serving tank, we aim to party. Happy Birthday, us.
FOR PEOPLE WHO LIKE
Partying til the sun comes up, candles on cake.
BEER GEEK STUFF
FERMENTABLES : Pale, Munich 10, Black Prinz, Midnight Wheat, Carapils, Dextrose.
HOPS VARIETIES : Centennial, Columbus, Simcoe, and Palisade.