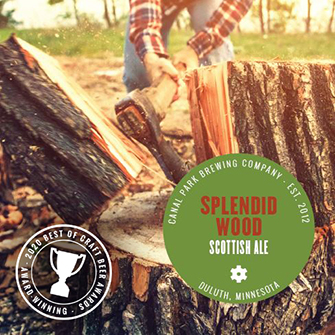 Splendid Wood
Scottish Ale

Award Winning Beer
Splendid Wood Scottish Ale took Bronze in the Scottish-style Ale category at the 2020 Best of Craft Beer Awards.
What's more splendid than heading out on a frosty morning and splitting firewood? This fine Scottish Ale, that's what. With a dark copper color and medium body, this splendid scottish ale has a mostly malty aroma with light fruitiness. A malty leaning flavor profile finishes slightly dry with moderate hop bitterness.
FOR PEOPLE WHO LIKE
Spey Casting, Golfing in the Wintertime, Wool Pants.
BEER GEEK STUFF
Hops: Sterling, Willamette
Fermentables: Pale Ale Malt, Carapils, Caramel Malt 30, Caramel Malt 80, Black Barley