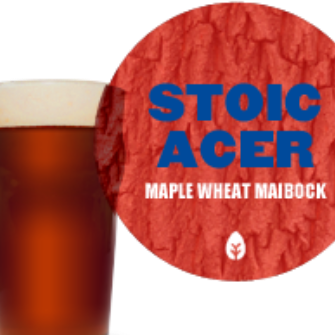 Stoic Acer
Maple Wheat Maiboc
As slow as maple syrup in Feb. That's how we felt about the arrival of Spring this year. Now us Northcoasters might be a hearty stock, but every good boy deserves syrup and we couldn't wait until next May to brew with this sweet treat. Kissed with caramel, toasty as July sun; raise your pint to the fleeting dog days of summer. Do it now, because if there is anything we've ever been sure about, it's that Spring will eventually come again.
FOR PEOPLE WHO LIKE
Breakfast in bed, watching the grass grow.
BEER GEEK STUFF
FERMENTABLES : Pale, Munich, Vienna Gold Pils, 6-row, White Wheat, and Maple Syrup from "Aspen Farms" located a little over an hour away in Mason Wisconsin.
HOPS VARIETIES : Hallertau and Sterling